About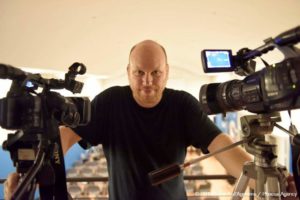 My name is Antonio Giacomin aka Fluido and I'm a video designer and creative technologist. I was always attracted by the small light points called pixels that forms a digital video and I used them in various ways from videoart to video projections through interactive installations. This website is my experience blog where I share my work and thinkings about my othe passions. My job is in video world but in a wide sense, from web communication to interactivity, from projection mapping to installations or digital scene setups. In my carrer I made video spots, documentaries and live streamings in traditional way and also in 360.  In 2014 I brushed up my VR passion and started to work in VR cinematography. In 2018 I was the creative director of In the Cave presented at the Biennale College VR section of the 75th Venice Film Festival.
Some of my clients are Teatro Miela Trieste, Teatro Stabile Sloveno Trieste- Slovensko Stalno Gledališče Trst, Mladinsko Ljubljana, Stara Elektrarna Ljubljana, Illycaffè Trieste, Triestecontemporanea, Fondazione Petruzzelli Bari, Fondazione Arena di Verona, Waxfactory New York, Zavod IND Ljubljana, Sejong Arts Center Seoul, Ideum USA, Provincia di Torino, Exploratorium San Francisco, Compagnia Lombardi Tiezzi.
Beside video I love art, travels, ancient books and speleology.
fluido.it videoexperiences
YouTube: https://www.youtube.com/user/fluidotv
Facebook: https://www.facebook.com/fluido.tv/
Instagram: https://www.instagram.com/fluidotv/
Twitter: https://twitter.com/fluidotv
LinkedIn: https://www.linkedin.com/in/antoniogiacomin/
360 blog: https://360.fluido.tv